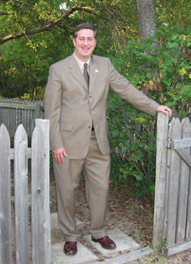 Pastor of Free Grace Bible Church, Dr. John Brumett, felt called to full-time ministry at the age of 16, in the chapel where he grew up. In 1992, he, his wife Penny, and their new daughter, Katie, moved to Dallas Texas to attend Dallas Theological Seminary, where he earned his Masters Degree. John was actively involved in his local church, during this time; however, after graduation, he began teaching the Sunday evening adult Bible study, which he did for six years. During this time of teaching, John began his Doctrinal studies at Tyndale Theological Seminary in Fort Worth Texas. John completed these studies (March 2001) and has founded Free Grace Bible Church, a wholly Bible-centered church.
After visiting many churches in the Metroplex and being actively involved in three of these churches, John is of the belief that churches today are leaving their real purpose — to accurately teach the Word of God in order to equip God's children to move on to spiritual maturity. Many ministers center on activities, programs, and other contemporary ideas which leave out the Word of God. John's vision is of a traditional, in-depth Bible-teaching church.
In order to support his family, while founding a growing church, John is self-employed as a residential window washer.