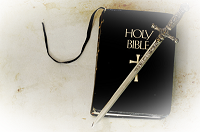 Free Grace Bible Church is an independent, self-governed, missions-oriented, conservative church family.
At Free Grace Bible Church, you will find a Pastor-Teacher-led congregation. There is an emphasis on the grace of God, the finished work of Christ, and the Word of God, as well as an emphasis on building our members toward spiritual maturity.
We believe the Holy Scriptures are the inspired Word of God, authoritative, inerrant, and God-breathed (II Timothy 3:16, 17; II Peter 1:20,21; Matthew 5:18; John 16:12, 13). Visit Our Beliefs page for more information.
It is the believer's responsibility to "grow in the grace and knowledge of the Lord Jesus Christ," (II Peter 3:18). To that end, there are several opportunities for hearing the word of God throughout the week, on Sunday mornings and on Wednesday nights. View Our Services page for times and locations (Map), and our calendar for other events.
For more spiritual growth opportunities, listen to any of our Bible teaching series' on our Podcasts page.
If you are ready to grow in Christ, as God intended for you to do, then come join us for verse-by-verse expository Bible teaching, prayer meetings, and conservative (hymnal) music.
If you have questions, please contact Free Grace Bible Church.